Welcome to the official U.K. Subs website and archive...
>>>>> LATEST U.K. SUBS NEWS <<<<<
Warhead Revisited 10" Released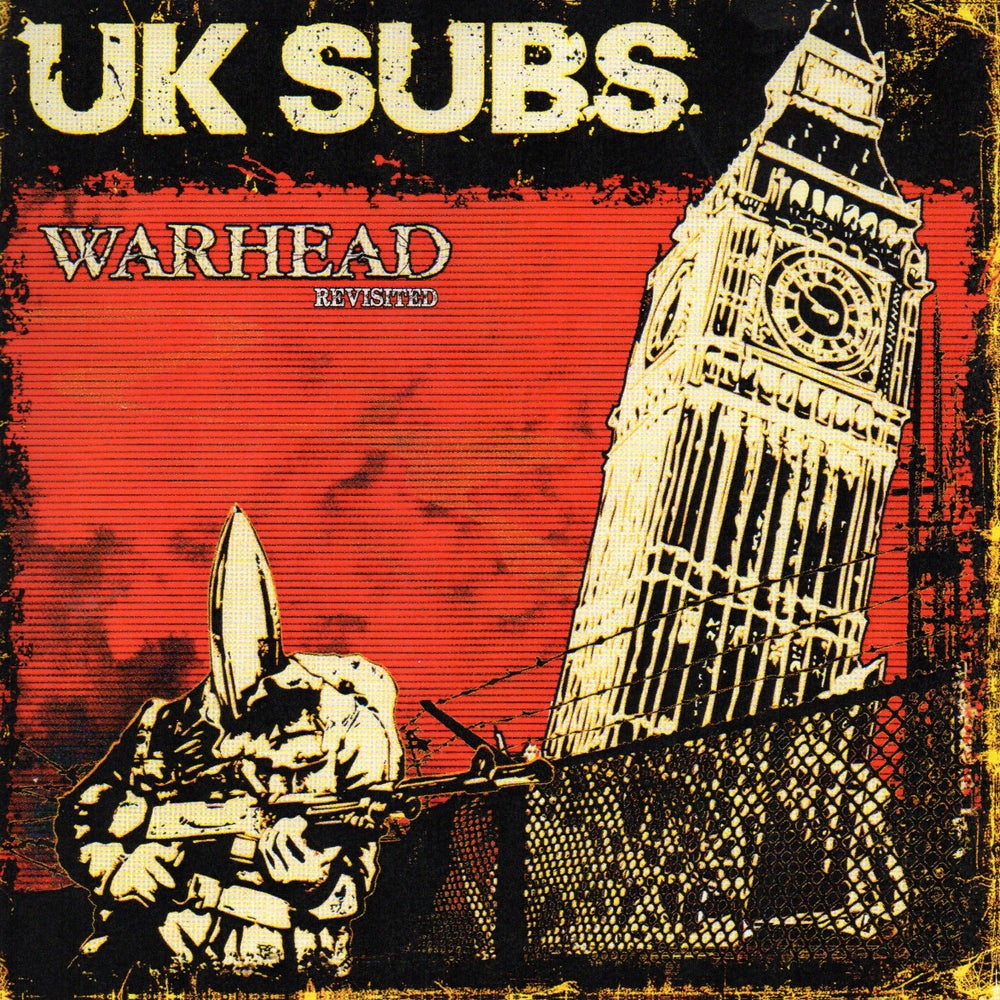 Combat Rock Records, France's greatest ever record label, have today (10/2/16) issued a vinyl re-release of the U.K. Subs' 2008 CD-only re-recording of 'Warhead'.

Re-titled 'WARHEAD REVISITED', this 12 track 10" is a limited edition of 500 copies on red vinyl.

Side 1 (Studio) features the original 5 tracks that appeared on the CD: 'I Live In A Car', 'Creation', 'Warhead', 'Straighten Out' and 'Knuckleduster', with the bonus for Subs collectors being that these tracks are appearing on vinyl for the first time. Side 1 is also boosted by the addition of the 2006 Subs single '666 Yeah' and all 6 tracks are licensed from Jet's label Jet 13 Records, who originally put them out.

Side 2 (Live) features 6 tracks recorded live on 15 May 2009 at the Azkena Rock Festival in Spain, with a Charlie Harper, Jet, Chema Zurita, and Jamie Oliver line up; the Subs' Festival set was also shown on TV. The 6 tracks are 'Squat 96', 'Emotional Blackmail', 'Barbie's Dead', 'Bitter & Twisted' and 'Left For Dead'.
The 10" has a catalogue number of CR084 and is available via a Combat Rock secure Big Cartel webshop here: http://uksubswarhead.bigcartel.com/product/uk-subs-10
---
Previously Unreleased Tracks On New U.K. Subs Compilation
Featuring the three tracks from the Subs' 2011 single 'Product Supply', along with the four tracks that make up the Charlie Harper & Captain Sensible E.P. 'Too Much Reality', as well as both sides of the Urban Dogs 'Rebellion Song' single; all of which were released by T&M, this essential compilation also boasts two tracks from the Noise Annoys 2005 re-issue of 'A.W.O.L' as well as those all important unreleased five tracks by Target Generation.
Target Generation were formed by Nicky Garratt, Alvin Gibbs and Kim Wylie when the line-up of the Subs they played in imploded after the band's tour of Poland in 1983. They were joined by Ken Scott and Mel Wesson. Kim Wylie left and was replaced by Ken Scott's brother, Andy, both formerly of Wasted Youth. This line-up recorded a five track demo for EMI but ultimately fell apart shortly after with these tracks never being released, until now!
T&M will be selling the CD at £10.00 plus postage, with the vinyl price yet to be set.
Charlie was interviewed on 20 January 2016 ahead of that evening's U.K. Subs show at Le 106 in Rouen.
Check out the interview for 'Radio Lomax' via YouTube here:
Time & Matter Recordings are extremely pleased to announce that we are now stocking ex-U.K. Subs guitarist Darrell Bath's latest solo album, 'Roll Up'.
Featuring members of one of Darrell's other bands, the Crybabys, 'Roll Up' is nine tracks of Punk Rock Blues that the Uber Rock website described as "...nothing short of an absolute pleasure from opening chord to ending crescendo."
Read the full review by Dom Daley HERE.
Priced at just £10.00 plus postage, you can get your copy via the T&M web-shop HERE.
Darrell's Facebook Page HERE.
Taster track below:

More great reviews at:
http://planetmosh.com/darrell-bath-roll-up/
---
U.K. Subs reveal brand new song via Pledge
The band have released a brand new song entitled 'I've Got A Gun' via their ongoing Pledge campaign for the forthcoming final studio album 'Ziezo'
Released through an update on 24 January 2016 via their Pledge page and therefore exclusive to anyone who has so far pledged for the new album, the new song was written by Alvin Gibbs "about a redneck threatening to go on a rampage"; the lyrics are reproduced below:
---
U.K. SUBS - THE GEM SINGLES VINYL LP OUT SOON
The Demon Music Group are set to release all the U.K. Subs' Gem Records singles from 1979 to 1981 on one LP at the end of the month.
Having recently put out the popular and superbly packaged complete Gem Records U.K. Subs recordings on a 5-CD boxset, as well as re-issuing the first 4 albums on LP, this latest re-issue comprises 22 tracks and comes on green vinyl, gatefold sleeve and inner bag with liner notes..
Available for pre-order now for £18-99 inc. UK p&p from Captain Oi! Records, who oversaw the design of this superb release...
RELEASE DATE:

29 JANUARY 2016
PRE-ORDER LINK:
---
ALVIN GIBBS' MEMOIRS - NEW CHAPTER PUBLISHED
Diminished Responsibility:
My Life as a UK Sub,
and other Strange Stories...
***Updated 14 January 2016***
New instalment published!


Chapter 8:
AMERICANA (part 2)
T&M today proudly publishes the 20th instalment of this wonderful series of memoirs from Alvin Gibbs about his life and U.K. Subs-experiences...
Read the latest...
...in which our author looks to, but surpasses his rock 'n' roll literary hero; experiences love at first sight with Manhattan, and other beautiful States; defies the urge to sleep due to such a scary schedule; bumps into some American punk heroes, chinwags with John Lydon over drinks; goes atop the Twin Towers; socialises at the legendary CBGBs; tears it up onstage with the boys and offstage with the girls; befriends the League and further regales the reader with stimulating stories of Hardcore storming America!
Previous chapters are archived in the T & Misc! section to the right entitled "Alvin Gibbs' memoirs"...
---
---
New U.K. Subs Live DVD Released
Subs Beside The Seaside, 'By The Sea'
Scarborough based Red Tick Films have released a new officially sanctioned DVD featuring the Subs' performance at The Corporation Club in Scarborough, England, on 25th of November 2015.
Titled 'Subs By The Sea', the DVD also includes backstage footage, the band's sound check and an interview with Charlie Harper.
Available to pre-order via the Red Tick website for £12.99, plus postage, until the 10th of January 2016 - after which the price will go up to £14.99 so don't hang around, click on the link below to get your hands on what looks like a fantastic release.
---
EXCLUSIVE T&M INTERVIEW
RICKY MCGUIRE

The U.K. Subs official website 'Time & Matter' is proud to present a brand new in-depth 'exclusive' interview with ex-Subs bassist Ricky McGuire.
Ricky is perhaps better known to U.K. Subs fans as 'Plonker Magoo', the nickname given to him for the Subs albums he appeared on, namely 1985s 'Huntington Beach' and the following year's double 'live' album 'In Action'.
Ricky also plays on the 7" EP 'Live In Holland', which in turn was taken from the semi-official 'Left For Dead' album.

Search UK Subs on the App Store or Google Play Store to receive push notifications, tours dates, exclusive videos and much much more.
Alternatively, there are links on the right hand side of this T&M page for you to access the app download procedure.
The App has quickly become an essential social accessory for all U.K. Subs fans worldwide...
CHARGE 69 - New Album Featuring Charlie Harper
FANTASTIC INTERVIEW IN THE PUNKED ONLINE 'ZINE
FANTASTIC REVIEW ON THE FUNGALPUNK WEBSITE
The FUNGALPUNK website has published a glowing review of the new Charge 69 album 'Much More Than Music' which features Charlie Harper on vocals amongst other punk luminaries.
Dave Fungalpunk, the world's most truthful reviewer has given a massive thumbs up on ALL TEN TRACKS! Blimey! There's a first! It really must be bloody good!
This massively exciting album is distributed on CD and vinyl exclusively in the UK through the U.K. Subs specialist record label Time & Matter Records...
The album features a magnificent vocal on one of the tracks:


'Birth of a Century' - by CHARLIE HARPER...
The blue vinyl LP is limited to 150 copies from T&M...
...exclusively produced for UK distribution
>>> READ WHAT THE CRITICS/REVIEWERS ARE SAYING <<<
---
T&M 011: THE TIME & MATTER CAR WINDOW STICKER
The Time & Matter catalogue recently made it in to double figures with our U.K. Subs 2014 calendar, helping to raise £2,000 for the R.N.L.I on the way. So to celebrate this we have produced T&M 011, which is a fabulously fun, limited run, high quality 'Time & Matter' Car Window Sticker.
Made from static-cling vinyl so it's easy to fix and easy to remove, the sticker celebrates the artists we've had the pleasure of working with over the last 4 years. Measuring 250mm x 50mm, we hope you agree that this is an essential purchase for any true U.K. Subs fanatic.
So whether you live in your car or if it just sometimes feels that way, you can now brighten things up in your vehicle with this suitably sloganed Subs-sticker; and as usual the proceeds will all go to Charlie's Charitable Cause. Only £2.00 plus P&P.
You can pick up yours via the Time & Matter Recordings Big Cartel webstore HERE!
---
SPOOF U.K. SUBS TWITTER ACCOUNT!
An unknown Subs fan has set up a spoof UK Subs Twitter account combining UK Subs lyrics and the world of Lego! It looks as if 'Lego_UK_Subs' is intent on tweeting some 'lego-ified' UK Subs lyrics from every UK Subs album and they have - obviously! - started with 'Another Kind Of Block'!!!!

Follow Lego_UK_Subs on Twitter - click here
---
"People, people, people, get involved. Play your guitar, do your fanzines, take photos BE INVOLVED. One day it could all be worth something because it's not only history but the future too. So live it, don't just be part of the audience, participate."
Charlie Harper, 17 December 1998 - quoted from an interview in Scanner Fanzine Issue 3
---
"Among the many bands on the bill are some of the veterans of the punk/new wave explosion of the late 1970s including... ...the seemingly indestructible UK Subs. Still fronted by Charlie Harper, who first formed the band as an Elizabethan madrigal quartet sometime in the 1600s, UK Subs were one of the original punk bands from 1976 and are notable not least for the fact of having been through at least 35 drummers in their 35-year history."
Nick Horton - Dorset Echo - 12th August 2011
---
T&M website born: October 2008 .
Official launch date: 1 December 2009.
The basis of 'Time and Matter' is to provide a chronological listing, day by day; month by month; year by year of the band's many activities.
Our aim is to provide as full an historical archive of the
U.K. Subs as possible... Full website editors' statement... click here
Quick editor contacts:
MARK CHADDERTON: This email address is being protected from spambots. You need JavaScript enabled to view it. |This email address is being protected from spambots. You need JavaScript enabled to view it.
ROBERT COOK: This email address is being protected from spambots. You need JavaScript enabled to view it.
You can contact us by snail mail as well:
Time & Matter Recordings, P.O.Box 5261, CV37 1JR
Please Note: This address is for website correspondence only, we are unable to accept post for any of the band members. (This applies to e-mail messages too.) Thanks.
Beware! Completionists at work!
Are you using Internet Explorer to view this website?
Please be advised it is better viewed via Mozilla Firefox.
" Time don't matter at all..."
1st May 2012: TIME & MATTER IS BACK!
After this U.K. Subs historical archive was hacked and disabled on 12th March 2012, we were forced to move it. WE ARE THEREFORE DELIGHTED TO BE BACK - KEEPING YOU BANG UP TO DATE WITH EVERYTHING TO DO WITH THE U.K. SUBS.

Eternal thanks to both Adam Welsh at Fallen Leaf Design and Chris Boehm at Firebird Information Technology Solutions who salvaged the old site, rebuilt it and are now hosting the new Time & Matter website.
Without their professional, efficient and incredibly friendly service, knowledge and know-how we wouldn't be here today.
So if you are having IT / website problems or are looking for a reliable service please show your gratitude for this website's return by utilising their businesses.
Finally, thanks to everyone out there in Subs-land who sent us messages of support and encouragement whilst the website was down. It meant a lot.
Keep spreading the Subs love
Mark Chadderton | Rob Cook
T&M website editors
Time don't matter at all...