U.K. Subs play the Sinner's Day Festival (Club Stage), Hasselt, Belgium

Line up:
Charlie Harper – vocals & harmonica
Jet – guitar
Chema Zurita
– bass
Jamie Oliver – drums
All photographs courtesy of Gemma Eggle (Libra Snake Photography)
No copying of Gemma's work without permission
---

Festival review on the Reflections of Darkness website:
AS IT ORIGINALLY APPEARED - CLICK HERE!
Archived below:
UK Subs

The mid-1970s were the time when British punk band UK SUBS came to life. Before even signing a record deal, they were already playing several of the renowned Peel sessions on BBC Radio 1. The group released their album 'Another Kind Of Blues' in 1979. They even played some gigs opening for THE POLICE around that time. With the 1980 release of the live album 'Crash Course' they had released their best-selling album. Over the years, the band underwent a significant amount of changes with the most occurring in their drummer's department. The band released a multitude of albums until today and still tours the world to play in clubs and on festivals. UK SUBS are Charlie Harper (vocals), Nicky Garratt (guitar), Alvin Gibbs (bass) and Jamie Oliver (drums). http://www.uksubs.co.uk / http://www.myspace.com/uksubsofficial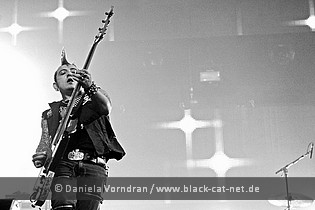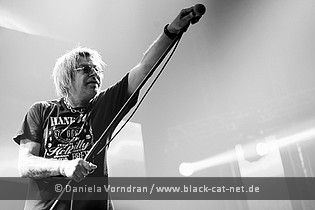 Music & Performance
With the UK SUBS soon to enter the stage we were presented with quite a different stylistic direction compared to that of POESIE NOIRE. It was in the most proper sense of the word punk and just looking at them for a few seconds took you at least 20 years back in time. Clean, rebellious punk rock was what came out of the PA upon the band starting their set with 'CID', a track the band already played live decades ago and which got celebrated as much as it was now. The rebellious attitude in no way seemed to be a fake and the fun the band had on stage was real. As is common with those punk songs, they're quite short and so the track soon made way for 'I Live In A Car', driving at even higher velocity and coming along with cutting riffs you could just shake your head to. The beginning of a journey through years and years of finest music that hasn't lost a bit of its significance ever since it's been created. Cuts like the melodious 'New York State Police', the high-octane attack 'Kicks', or 'Rockers' that exploded out of the blue, kept the crowd on their toes.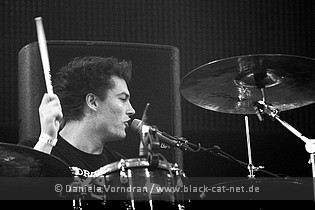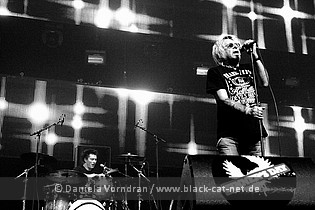 But the band also had something special for the people with the song 'Sinner's Day', actually being the track 'Saints & Sinners' but renamed for the festival and with altered vocals. I must say I enjoyed a lot what I could see before having to head over to the club stage for the next band there.

Setlist
01. CID
02. I Live In A Car
03. New York State Police
04. Squat 96
05. Emotional Blackmail
06. Kicks
07. Left For Dead
08. Rockers
09. Sinner's Day (Saints & Sinners)
10. Bitter & Twisted
11. Limo Life
12. Endangered Species
13. Tomorrow's Girls
14. Warhead
15. Riot
16. Strangle Hold

Rating
Music: 7
Performance: 7
Sound: 8
Light: 8
Total: 7.3 / 10
---
Please contact us if you can provide this website with any of the following:
Your personal review of the show
A poster/flyer for this gig
A recording of the gig
Photos from this gig
This gig's set list
Any newspaper/fanzine preview or review