The following news story appeared on the T&M homepage:
CHARLIE IN 'THE GUARDIAN' NEWSPAPER & GERMAN TV INTERVIEW

Charlie is briefly quoted in today's Guardian newspaper in an article by Dave Simpson about the forthcoming Rebellion Festival in Blackpool, entitled Rebellion festival: 'If the mohicans are wilting by Sunday, then it's a good year'. To read the original article: CLICK HERE
Charlie was also interviewed today by a German TV crew for a forthcoming programme which will celebrate 30 years of Die Toten Hosen.
The Guardian article is archived below: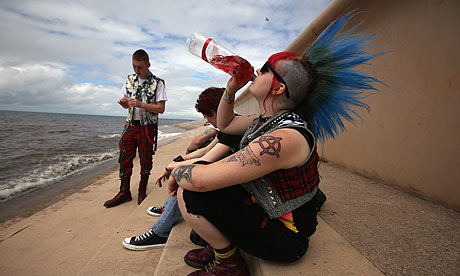 Every August, for one weekend, the arcade punters, ice-cream eaters and donkey riders of Blackpool are joined by a different crowd. But the newcomers don't turn up with buckets and spades; rather, they bring leather jackets and spiked hair. Instead of being at the seaside resort for a holiday, they're in town for the Rebellion festival, an annual celebration of all things punk and spiky at the Winter Gardens.
"It looks like a scene from Zombie Flesh Eaters," says guitarist Paul Rooney of Vice Squad, the veterans who are regulars on the Rebellion bill. "You walk through the doors and you're transported to another world."
According to the band's singer, Beki Bondage, the success of the festival can be measured by the audience's barnets.
"The mohicans are tall and erect on the Friday. But if they've started wilting by the Sunday, you know it's a good year."
Rebellion lineups often read like a who's who of punk, bringing together British and American acts from the scene's various eras. Some – like this year's headliners Public Image Limited – aren't particularly punk at all, although the band does feature a former Sex Pistol in the form of vocalist John Lydon.
"I don't like the word 'punk'," insists Lydon, who once played Blackpool with the Pistols, infamously singing through a pair of Cilla Black's tights he found in the dressing room. "But if I'm not entitled to play a punk festival, I don't think anyone is."
The 2012 lineup features other first wave bands such as Buzzcocks, Slaughter and the Dogs and Penetration, alongside US punk heroes Social Distortion and Rancid. Across the eight stages, there are enough other bands to sate the needs of any punk. Not that Lydon is expecting old friendships to be renewed.
"You've got to understand that bands don't get on with each other," he says. "It tends to be odd little cliques glaring across the room. I'm sure it will be hilarious."
Rebellion has fought punk wars of its own. When it started in 1997, as Holidays in the Sun in nearby Morecambe, a petition was launched by unhappy residents and the council banned the festival. "Talk about economic suicide," sighs Bondage, mystified at why the authorities would turn their back on the much-needed tourist income spent in pubs and B&Bs.
So the festival changed names and relocated down the road. A few years ago, when Vice Squad played a similar event in America, a ruckus in the audience triggered a police operation, with helicopters and pepper spray. But Bondage insists British punk audiences "have moved on from spitting at old ladies".
"The original punks stand out because they're older and fatter, and struggle to do the pogo now," Rooney says. Many once fearsome punk rockers are now cuddly parents, who bring punk rock babies in punk T-shirts and earmuffs. Their parents' record collections or the internet lure slightly older youngsters into seeing what this threat to society was all about.
Charlie Harper, the 67-year-old singer of UK Subs, talks of having an eight-year-old on stage with them, singing their 1979 single, Stranglehold, while Vice Squad have – they hope – won over even younger fans. "This pregnant punk girl turned up," Bondage says, "and asked: 'Can you bless my belly?'"
For bands like the Subs, who still play 100 gigs a year, Rebellion is a key date in the calendar. Other acts reunite specially for the event and then go back to their day jobs. Bondage was fronting the Bombshells when the festival asked her to reform Vice Squad, the band she'd quit in 1982. But rather than phone up musicians she hadn't played with for decades, she stuck with the musicians who'd been playing "toilets" with her for years. So the Bombshells became Vice Squad. "Proper honourable," insists Rooney. They thought the gig would be a one-off under that name to repair their battered Transit, but went down such a storm they carried on. "I thought they'd all have moved on or changed and be into skate punk or cyber punk or whatever," Rooney admits. "But they haven't. They loved us."
For bands and audiences alike, Rebellion celebrates punk's continued appeal and relevance. Charlie Harper wistfully points out that the UK Subs' 1980 single Warhead "was about a little war in Afghanistan back then. When I hear crowds singing it today and realise it's still current, it brings a tear to my eye."
"If you're singing about being downtrodden, 90% of the population is going to identify with it," Bondage says. "I'd be prepared to kill off punk if we lived in a perfect world. But it isn't. Punk's the modern blues."
• At the Winter Gardens, Blackpool, 2-5 August. For details see rebellionfestivals.com