The following news story appeared on T&M today:
28/09/2011: New CD reviewed by Polish website
Irka.com has published a review of the CD today. Click here to view.
Thanks to Sylwester Zimon for the information.
Archived below:
UK Subs
Complete punk singles collection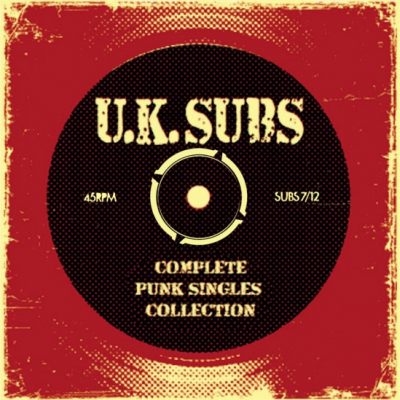 Punk rockowi weterani z UK Subs nie dają o sobie zapomnieć. Zaledwie w styczniu wydali premierowy krążek "Work in progress", a ostatnio na sklepowe półki trafił przekrojowy, kolekcjonerski album "Complete punk singles collection".
Na dwóch płytach znalazło się 28 numerów, które pojawiały się na stronach A wszystkich singli zespołu. Taki sposób selekcji utworów sprawił, że zabrakło tu czterech kawałków, które znalazły się na wydanej w 1998 roku płycie "Punk singles collection". Ale mamy tu za to aż 11 numerów, które uaktualniają kolekcję singli Subsów.
Jak na kolekcjonerski gadżet przystało, płyty zapakowano w oryginalne tekturowe pudełeczko, w którym oprócz płyt znalazła się książeczka opisującą każdego singla zespołu oraz punk-rockowy gadżet w postaci dwóch podstawek pod piwo.
"Complete punk singles collection" chronologicznie przedstawia rozwój i rozliczne zmiany składu UK Subs. Klamrą łączącą wszelkie dokonania grupy jest wiecznie młody wokalista Charlie Harper, który mimo tego, że niebawem będzie świętować swoje 70 urodziny wciąż ma się dobrze, a jego coraz bardziej zdarty i ochrypnięty głos wpisuje się lepiej w styl UK Subs, niż bardziej melodyjne zaśpiewy w początkowym okresie działalności kapeli.
UK Subs to żywa legenda światowego punk rocka. Mody się zmieniają, zespoły pojawiają się i znikają, a ekipa Charliego Harpera wciąż łoi swojego podszytego bluesem i rock'n'rollem brudnego punk rocka. "Complete punk singles collection" to doskonała okazja, żeby nadrobić zaległości w punk rockowej edukacji. Szkoda tylko, że oprawa graficzna albumu jest dość skromna, jak na współczesne standardy.
UK Subs "Complete punk singles collection"
Wyd. Captain Oi, Sierpień 2011
REVIEW BY Sylwester Zimon