U.K. Subs play Islington o2 Academy, London, England
LINE UP:
CHARLIE HARPER
vocals & harmonica
JET


guitar
ALVIN GIBBS


bass
JAMIE OLIVER


drums
The following news story appeared on the T&M homepage:
Online photo review of recent Subs gig in London
Louder Than War website has published a photo review of the U.K. Subs recent gig at the 02 Academy Islington, London on December 11th 2015.
The photos are by Svenja Block.
"Louder Than War photographer Svenja Block takes photos of the U.K Subs and support band The Ramonas at 02 Academy in London.
A most excellent night out on a Friday night in London. The venue was filled with punk rockers despite the festive season being in full swing. The only support band of the evening The Ramonas rocked hard – if there is such a title as best tribute act – then this band deserves the aforementioned accolade like no other! Frontwoman Cloey Ramona's (no, everyone's) performance was one hundred per cent physical and simply stunning.
Original 1977 Punk legends UK Subs need little introduction; their 40th anniversary is just around the corner and album number 26, "Ziezo", which is said to be their last one ever, is currently funded via a successful Pledge Music online campaign.
Charlie Harper commands the stage and has everything under control, while sporting a mischievous smile on his face in between songs. This is an intriguing line-up with Jet shredding his guitar, Alvin Gibbs on bass, and Jamie Oliver on drums.
Tonight we hear classics and more recent stuff: "Party In Paris", "Hell Is Other People", "Disease", "Emotional Blackmail", "Stranglehold" and a timely cover version of Kevin Bloody Wilson's "Hey Santa Claus".
Great stuff!"
View the photo gallery at:
Online review of last night's Subs gig in London
The excellent Art of the State website has published a review of last night's Subs show at the o2 Islington Academy. Click here to read...
Review also archived below...
UK SUBS / RAMONAS – Academy, Islington
UK SUBS / RAMONAS, Friday 11th December 2015 at The Academy, Islington, London
With another year of extensive touring and their 26th and final album 'Ziezo' well underway tonight felt like something of a end of year Christmas party in their home town of London for the UK Subs. Before they could get started there was time for tonight's support – the Ramonas – 'The UK's all girl tribute act to the Ramones'.
I don't really think that line does the Ramonas justice. Of course their entire set consists of Ramones classics save for the inclusion of Motorhead's own tribute 'R.A.M.O.N.E.S' but I'm sure they're more than capable of being just as entertaining if they did their own songs. Being someone who had the pleasure of seeing the Ramones in person I can say they capture everything that made them such a formidable live act so well. Rohnny Ramona does that whole nearly doing the splits thing while hammering her guitar, Cloey Ramona has the long hair and shades look down to a tee and is not afraid to "beat on the brat with a baseball bat" with her assertive performance. Long time bassist Pee Pee Ramona is sadly absent with flu but replacement Donna(?) does a great job on the night. Finally up on the drum riser sits Margy Ramona blasting out the beats, ensuring that the momentum is kept at full throttle, barely pausing between "1,2,3,4's" from the rest of the band. That's the key to whole thing. Yes, much of the Ramones early output may be relatively simple but its that relentless energy, that endless line of classic after classic that made their live shows so memorable. The Ramonas understand this, it's a physically demanding show and not a run through. Brilliant stuff.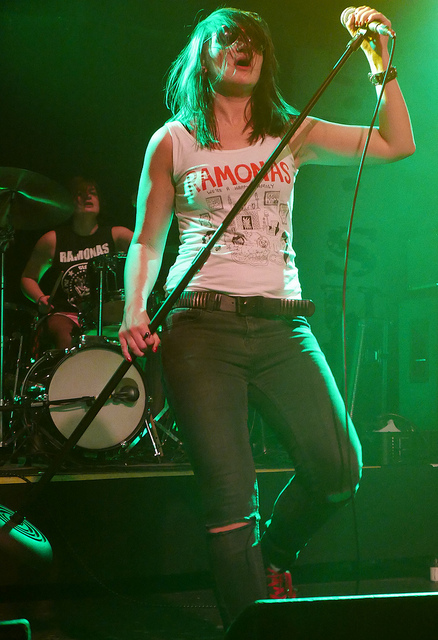 Cloey From the Ramonas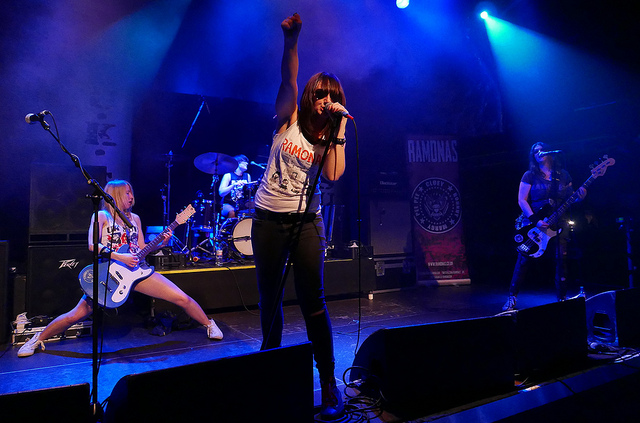 The Ramonas – "1,2,3,4"!
Rohnny Ramona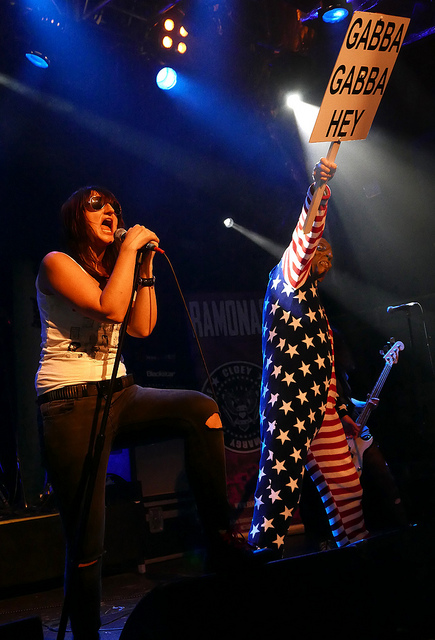 The Ramonas – 'Gabba Gabba Hey"!
I've seen the UK Subs more times over the years than I care to mention here. Right now though, with a line up that surely must be the longest serving to date, they are right on the top of their game. Drummer Jamie Oliver is rock solid, delivering a machine gun like beat behind the kit, guitarist Jet plays with a real flourish spinning on the spot whilst Alvin Gibbs kicks up a ferocious and thunderous rhythm while dropping to the floor. With twenty five albums under their belt they have a wealth of material to choose from. Of course much of their catalogue from their Top Of The Pops years such as 'Stranglehold' and 'Tomorrow's Girls' is played but more recent offerings like 'Suicidal Girl' and 'Hell Is Other People' stand up just as well. For getting the crowd moving you can't beat their first EP – 'C.I.D' backed by 'Live In A Car' – such memorable tunes. Charlie Harper, a proper punk rock legend if there ever was one, is at the centre of everything. He references the recent outrage in Paris and his love for the city and its people ("may they forever party on"). Referring to some sound problems the band are having he jokes that when it all goes wrong on stage it's normally great out in the audience and vice versa. 'Warhead' is, of course, a massive singalong which sees the band joined by Rohnny Ramona and a Pinhead(!). The band return for an encore wearing a mixed bag of Christmas hats and singing Kevin Bloody Wilson's 'Hey Santa Claus' before they say their goodbyes. It genuinely looks like they've left for the night but they have time to come back out again and give us a couple more before its finally all done and dusted and a large amount of very happy people spill out of the venue into the adjacent streets. Roll on album 26 – 'Ziezo'. Get involved in this historic issue via Pledge Music here.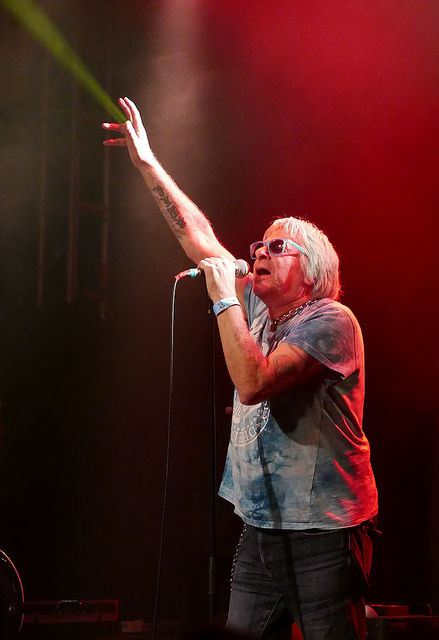 Charlie Harper, UK Subs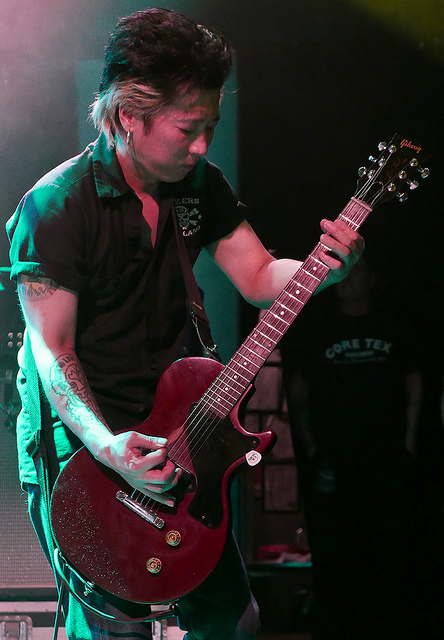 Jet, UK Subs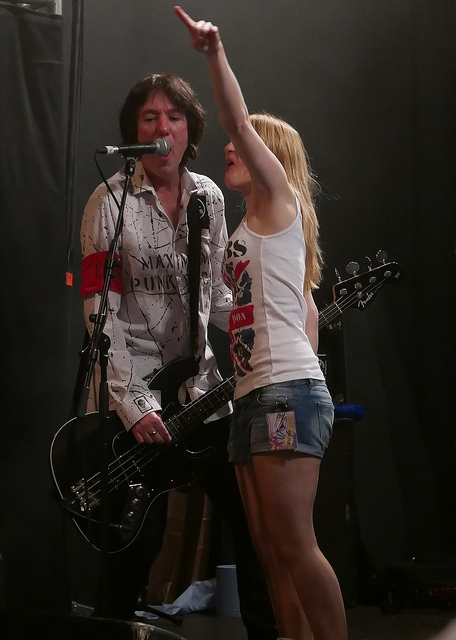 Uk Subs – 'Warhead' singalong
Letting the crowd take over on vocal duties for a bit.
---
Please contact us if you can provide this website with any of the following:
Your personal review of the show
A poster/flyer/ticket for this gig
A recording of the gig
Photos from this gig
This gig's set list
Any newspaper/fanzine preview or review